13 août 2017
7
13
/

08
/

août
/

2017
14:17
J'aime bien tricoter des châles (mais pas que !), ça n'aura échappé à personne ! Et là je m'aperçois que j'en ai plusieurs, faits ces derniers temps, que je ne vous ai pas encore montrés. On commence donc la série par le châle Frou-Frou, un modèle proposé par Camille.
As you may have noticed, I love knitting shawls and such (well, not only shawls, though!). As it happens, I made several recently that I have not yet shared with you, so let's begin this new series with the Frou-Frou shawl, a pattern by Camille.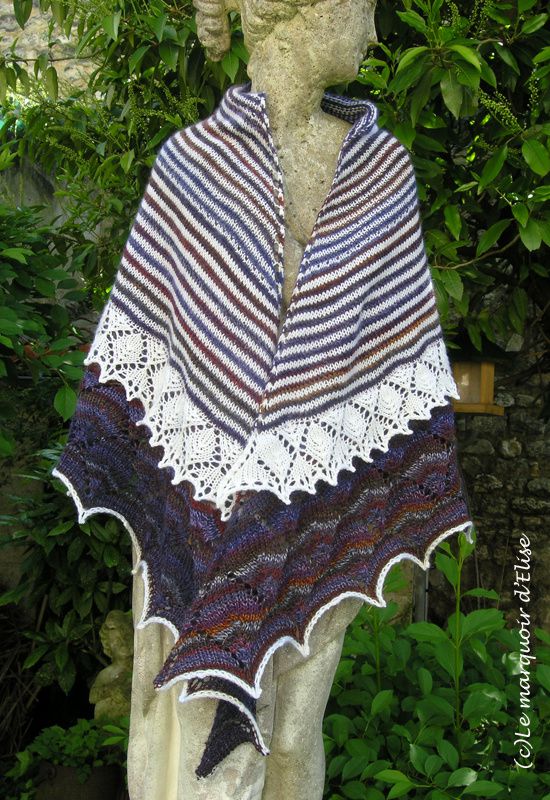 J'ai tout de suite adoré le petit volant blanc en dentelle tricoté par dessus le corps principal. Ca réveille ce modèle assez classique.
I immediately loved the white lace ruffle knitted afterwards over the main body of the shawl. It gives a real twist to a rather conventionalpattern.
Des rayures, et une grande bordure en dentelle en bas, avec le petit volant blanc par-dessus.
Stripes and a large lace border at the bottom. Plus the white ruffle on top.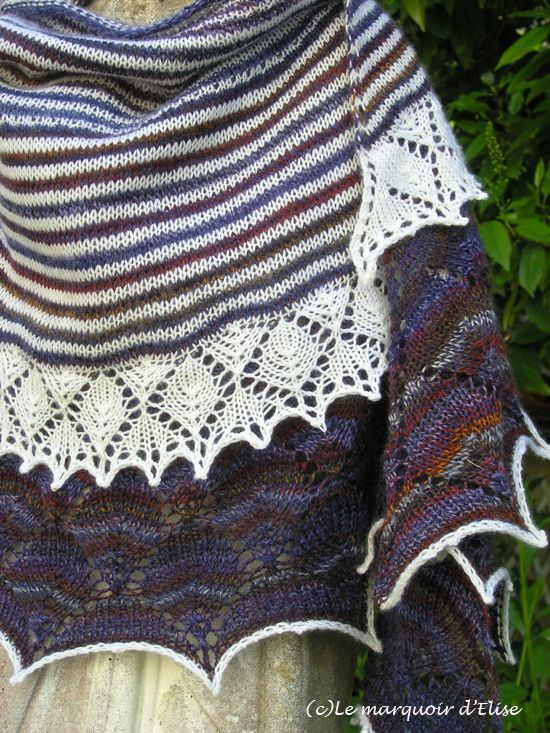 Laines Zauberball Stärke 6 de Schoppelwolle, col. route 66, et Merino Baby Wool de Cheval Blanc, col. blanc, achetées aux Aiguilles de Camille.
Zauberball Stärke 6 by Schoppelwolle, in Route 66, and Merino Baby Wool by Cheval Blanc, in white, from Les Aiguilles de Camille.
Je dirais bien, vivement l'automne, mais même pas la peine d'attendre jusque là, vu le temps que nous avons eu dernièrement ! Vous avez dit "été" ?
No need to wait till this Autumn to enjoy the comfort of this shawl, the weather was cold enough these past days... Who said this was summer?
A très vite !
See you soon !