29 août 2016
1
29
/

08
/

août
/

2016
15:31
Aaahhh, mais dites, ça fait longtemps que je n'ai pas posté un article Tricot, il est grand temps de faire le point des dernières chaussettes... C'est que l'hiver arrive...
It's been a while since my last knitting post, it's high time to take stock. And guess what? I'm afraid it's all about socks today... Remember, Winter is coming...
Mais avant l'hiver, il y a l'automne, et des chaussettes basses et/ou en coton, ça peut être utile.
Autum first, though, and cotton and/or ankle socks may soon be useful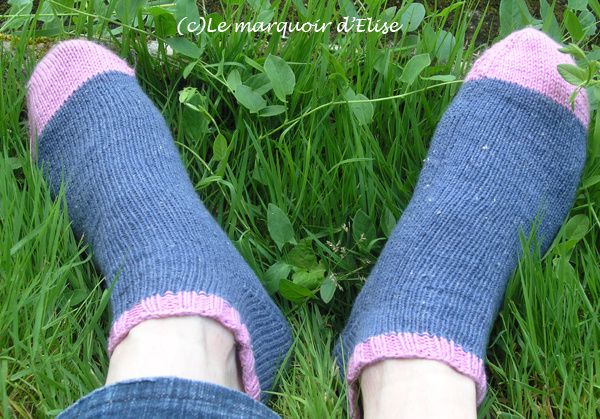 Pas de modèle pour ces petites chaussettes en coton pour lesquelles j'ai utilisé un reste de coton rose et de vieilles pelotes de coton à tricoter retrouvées au fond d'une armoire. Le problème du fil 100 % coton pour les chaussettes, c'est le manque d'élasticité, mais avec des soquettes ça passe sans problème au niveau du talon.
No specific pattern for these 100% cotton pink and blue ankle socks. I used old balls of navy blue knitting cotton I had in my stach, they date back to a few decades I think but they still work very well. Ankle socks solve the problem of the lack of elasticity of a 100% cotton yarn, in particular for the heel.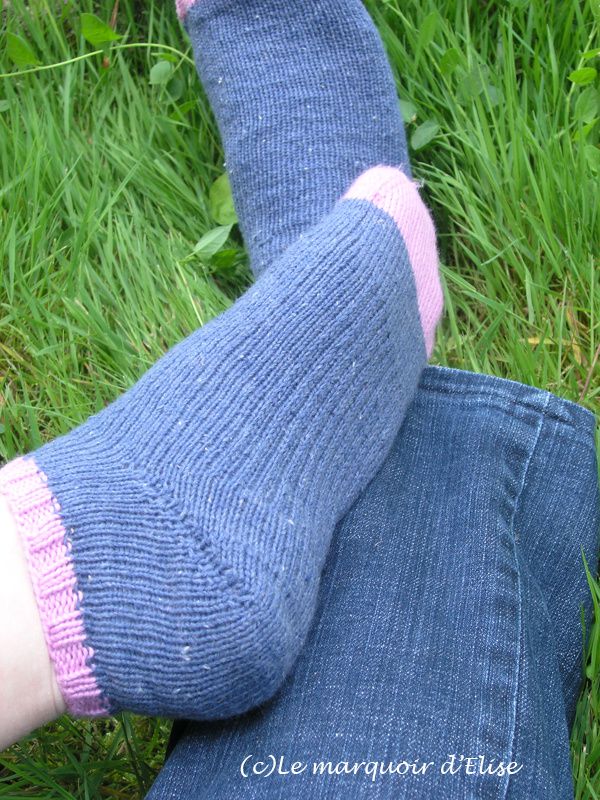 Commencée par la pointe, tricot circulaire aig. 2.25, petite fantaisie de point pour la semelle. (Précisons que la photo a été prise en juin, et que l'herbe encore très verte à l'époque n'est aujourd'hui plus qu'un infâme paillasson...)
Toe-up sock knitted on 2.25mm circular needles. Fancy stitches on the sole! (The picture was taken in june, that's why the grass still looks so green; owing to a two-month long drought it now resembles a worn out doormat...)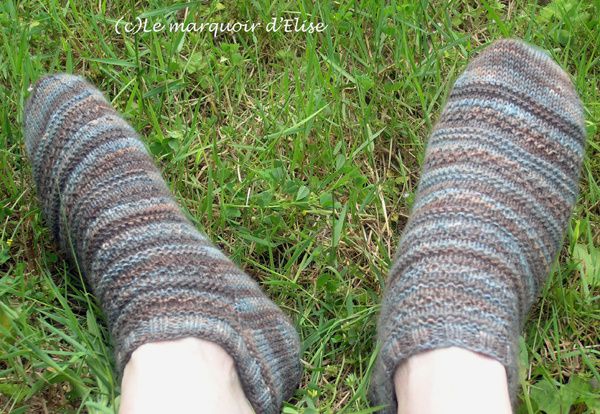 Les soquettes Tennarisukka (c'est du finnois pour chaussettes de sport, ça en jette !), modèle trouvé sur Ravelry et tricoté avec un reste de Fil Online Supersocke, aig. circulaire 2,5 mm.
Tennarisukka ankle socks (Finnish for sneaker socks, sounds so posh!), a free pattern available on Ravelry. Leftover of Online Supersocke yarn, 2.5mm circular needles.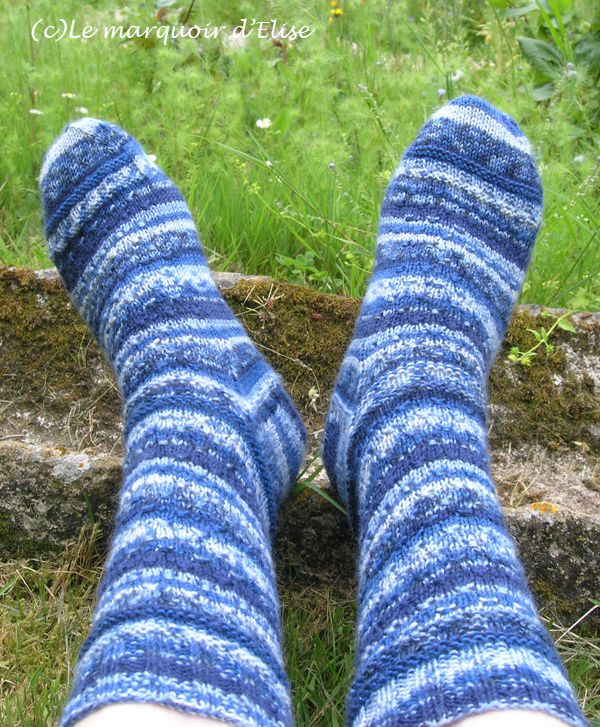 Les chaussettes d'hiver à présent ! D'abords les Smocked Guernsey socks, modèle proposé dans la classe en ligne de Lucy Neatby sur Craftsy (Knit-along 2016). Même remarque pour l'herbe !
Winter socks now! First, the Smock Guernsey socks, pattern available in Lucy Neatby's online class Knit Along 2016 on Craftsy. See above for the note regarding the grass!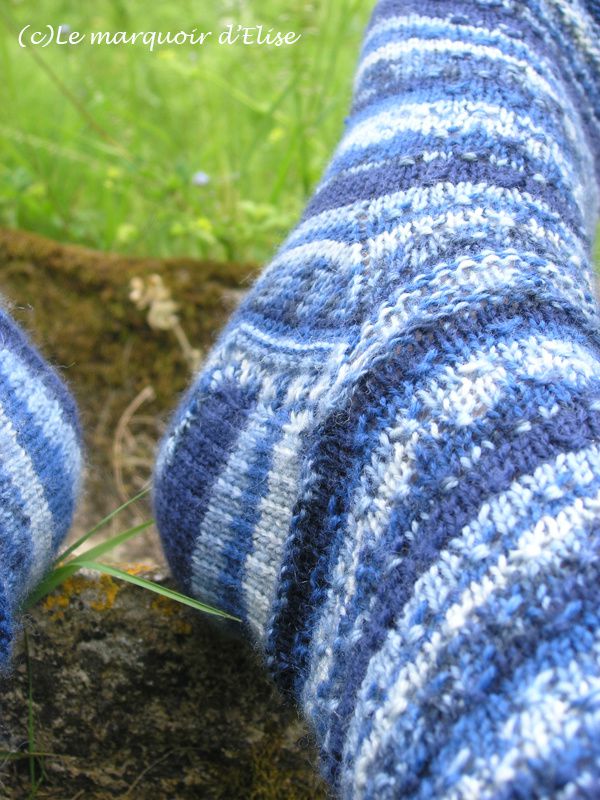 Fil Online Supersocke Merino color, sur aiguille circulaire 2,5 mm.
Online Supersocke Merino-color yarn, 2.5mm circular needle.
Dans le groupe des Sock Knitters Anonymous sur Ravelry, des challenges sont organisés tous les mois. Voici un des thèmes du challenge de mai, des chaussettes "mystère" (dont le motif se dévoile au furr et à mesure des étapes) nommées Shannara par leur créatrice Yavanna Reynolds (Datenshi sur Ravelry). Voilà ma version !
The Sock Knitters Anonymous group on Ravely organises tantalizing monthly challenges. Last may challenge notably featured creator Yavanna Reynolds (Datenshi on Ravelry) who proposed mystery socks (the pattern is revealed clue after clue over the month) named "Shannara". Here are my Shannaras: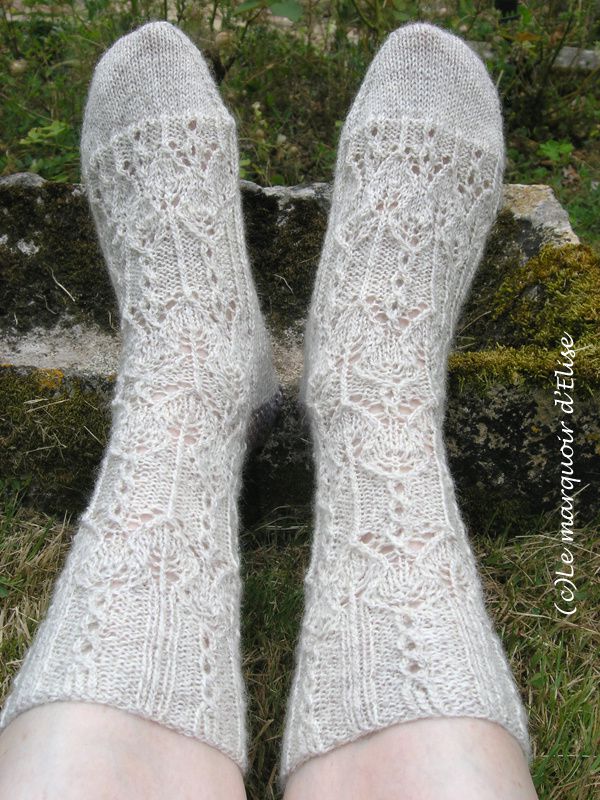 Point dentelle et talon sympa à trois couleurs ! Fil Fabel de Drops, aiguille circulaire 2,5 mm.
Lace stitches and an interesting three-color heel pattern. Drops Fabel yarn, 2.5mm circular needle.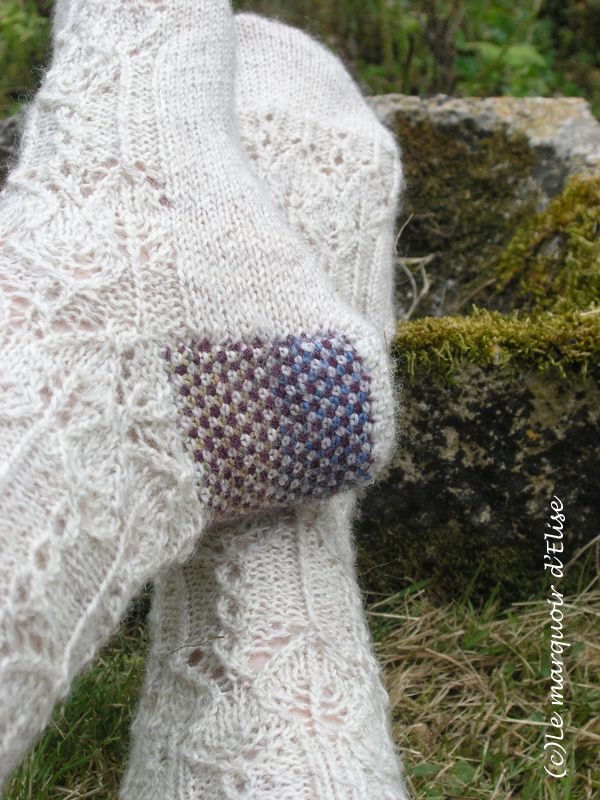 Le challenge de juillet voyait la participation du créateur Richard Ensor (That bald guy knits) et son modèle mystère "Eggses" !
The July challenge featured creator Richard Ensor (That bald guy knits) and the mystery socks "Eggses" pattern.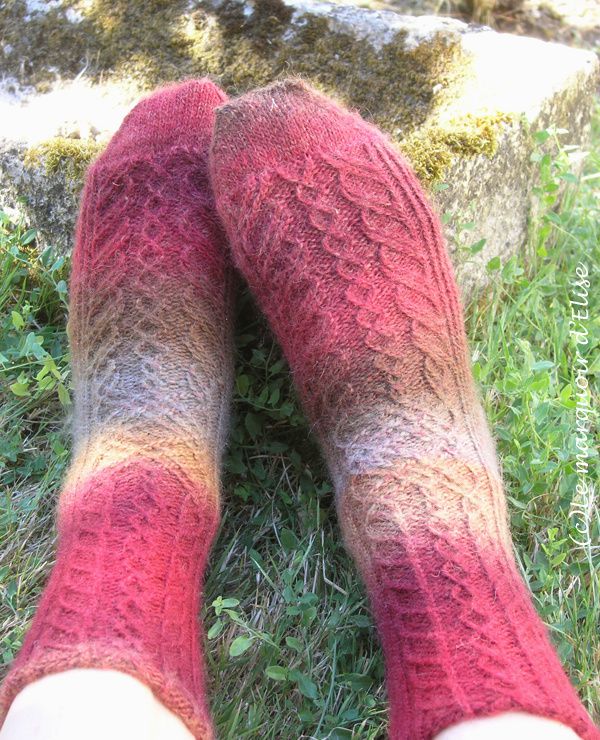 Fil Delight de Drops (sans doute pas mon meilleur choix pour ce modèle car le dessin ne ressort pas très bien, il aurait fallu un fil uni, mais c'était celui que j'avais sous la main !), aiguille circulaire 2,5 mm.
Drops Delight yarn (obviously not the smartest choice for these socks since the pattern does not stand out very well - a solid yarn would have been far better - but that yarn was available in my stash!), 2.5mm circular needle.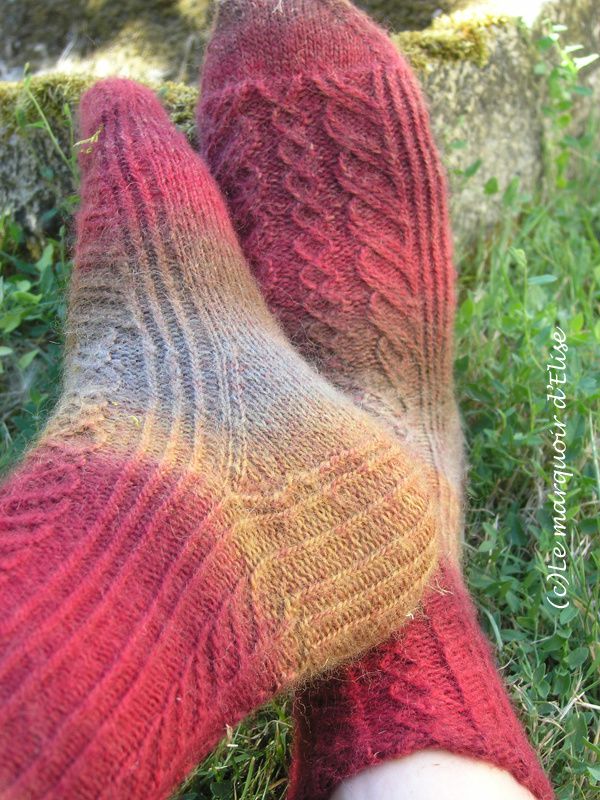 Motif de torsades type "bavarois", un peu long mais très sympa à faire !
Bavarian style travelling stitches, great looking but time-consuming!
Et voilà, c'est tout ! (pour l'instant...) A très vite !
That's all for now. See you soon!